TT RS Coupé
Do not forget to breathe.
Take a deep breath: the TT RS Coupé will take your breath away. The newly developed 5-cylinder engine combines breath-taking driving pleasure with impressive engine sound. With 294 kW (400 hp) and a maximum torque of 480 Nm, the TT RS Coupe accelerates to 100 km/h in just 3.7 - and then blasts off to 250 km/h. For those feeling adventurous, max. speed can be set at 280 km/h. Discover the Audi design icon, sharpened by characteristic RS features.


Fuel consumption
Fuel consumption, combined:
CO2 emissions, combined:
TFSI quattro
8.2 l/100 km
187 g/km
Meet the Audi TT RS Coupé
The 2.5 TFSI engine
Start the engine, shift into first gear, and step on the gas. Enjoy the sheer, awe-inspiring driving pleasure. The newly developed turbocharged five-cylinder engine produces 294 kW (400 hp) with a maximum torque of 480 Nm. From a starting position, the TT RS Coupé accelerates from 0 to 100 km/h in 3.7 seconds. The top speed is limited to 250 km/h; if requested it can be increased to 280 km/h. The firing sequence 1-2-4-5-3 carries a particular rhythm and character with it. Impressive as it is, the engine sound can be enhanced with the RS sound button.
Impressive lighting innovation as an option: For the first time, an Audi's production vehicle offers matrix OLED taillights in 3D design. They deliver extensive, extremely homogeneous light with high contrast, which can be dimmed continuously. What is more, they cast no shadows and need neither reflectors not light guide, which makes OLED units efficient and light. The new lighting design is a technology marvel: Each taillight features four ultra-thin illuminants, which grow smaller from inside to outside. The largest bears a TT logo and Audi rings. Upon ignition, new and eye-catching light sequences unfold. Thus, the light travels in a quick loop around all four units to finally light up an arrow-shaped LED light guide.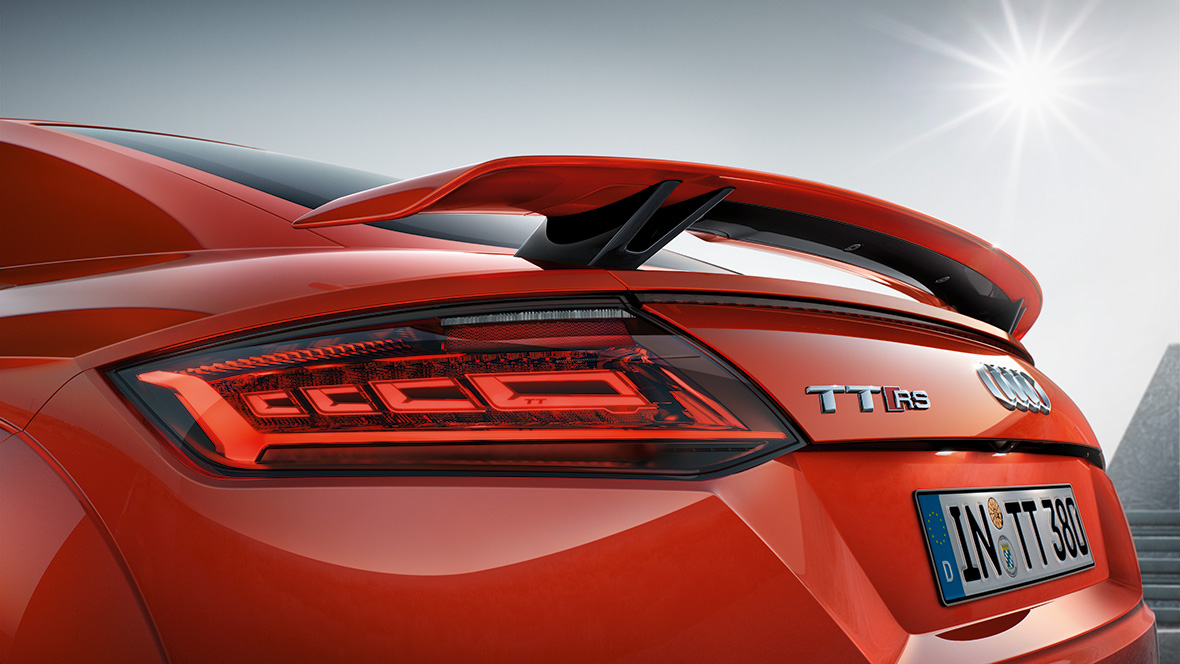 Attain your goals - your own way. Audi drive select allows setting up quattro drive, steering, S tronic, engine characteristics, and exhaust valves at will - from long-distance cruising to fast-lap circuit driving. To that end, the car offers four driving modes: Comfort, auto, dynamic, and individual. The lightning-fast seven-speed S tronic - standard - and The permanent quattro all-wheel drive delivers agile handling and superior stability when driving. Driving forces are distributed as required to the front and rear axle via an electro-hydraulic multi-plate clutch. Networking with the electronic stabilisation control allows precise and particularly sports character. The RS sport suspension steers the TT RS spontaneously into turns with a controlled yet serene behaviour.

The TT RS Coupé design is further refined with distinctive features, such as Audi's single-frame grille with honeycomb and the quattro logo. The striking RS bumper with aggressive air intakes convey a powerful and athletic impression. The rear is aesthetically dominated by the fixed wing, sitting on two slender double spokes. A highly profiled diffuser insert with four vertical fins complete the car's dynamic appearance. The TT RS models offer nine body colours, including the RS-specific tones Nardo grey uni and Catalunya red metallic.